---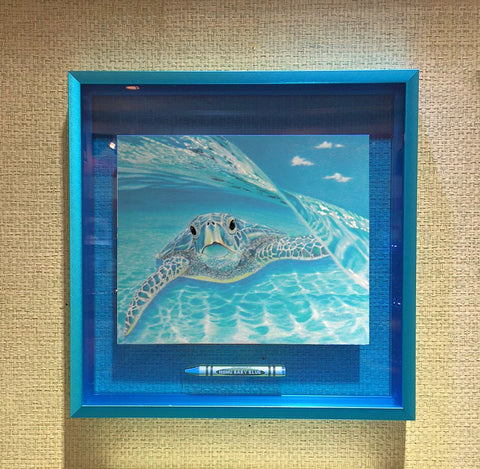 HONU BABY BLUE Crayon Collectible
---
CRAYON ENHANCED EDITION OF 80.  TITLE OF ARTWORK IS ON THE CRAYON.
AVAILABLE IN THE NEW FRAME SHOWN ON THE COLLECTION PAGE. MADE OF THE HIGHEST QUALITY ALUMINUM METAL MOULDING.  FRAME SIZE IS 12X12. CLEAR PLEXIGLAS FRONT AND BLUE PLEXIGLAS BACK IN CHOICE OF LIGHT TRANSPARENT FLUORESCENT BLUE, TRANSPARENT AQUA BLUE, TRANSPARENT MEDIUM BLUE.
SHOWN IN THE AQUA FRAME WITH AQUA ACRYLIC.