COLLECTORS
CRAYON ART COLLECTORS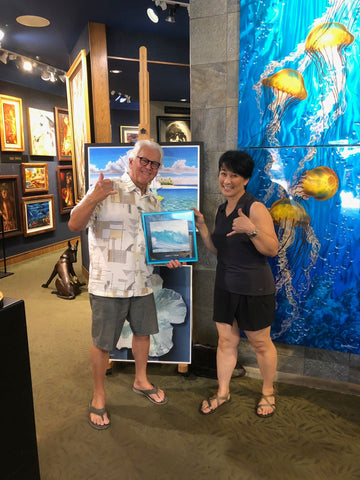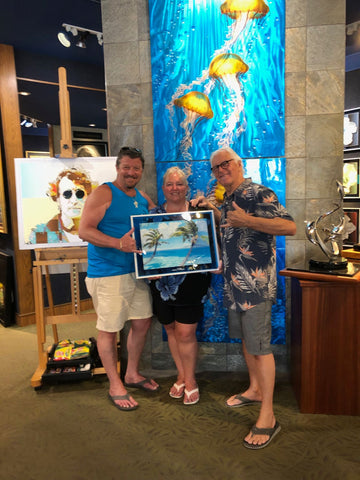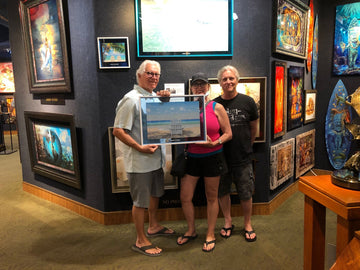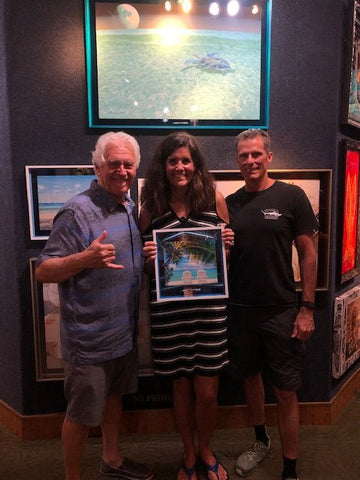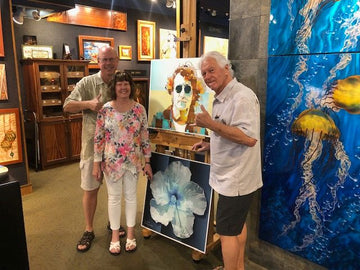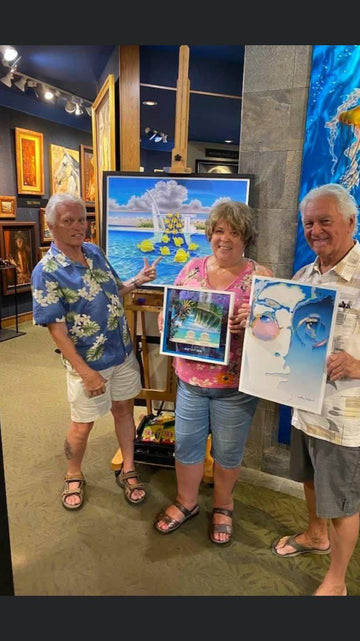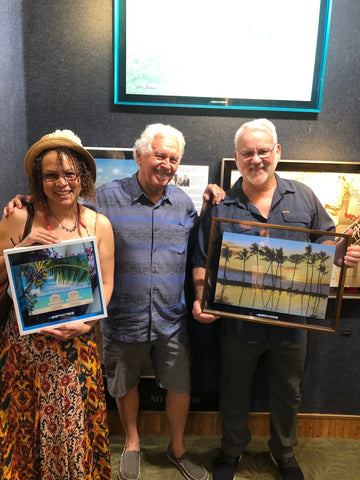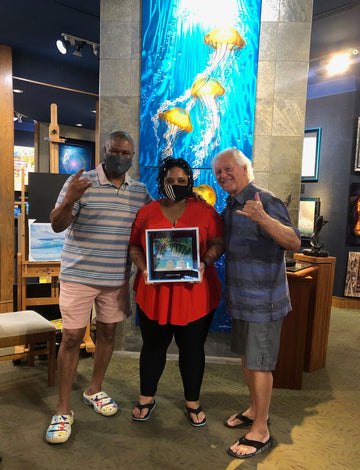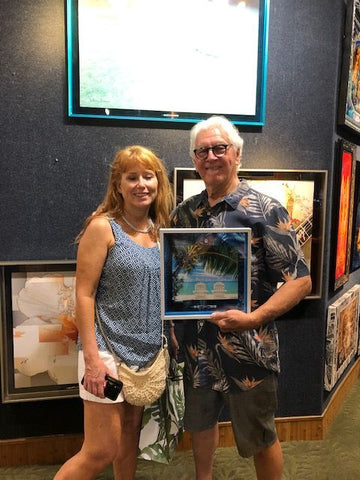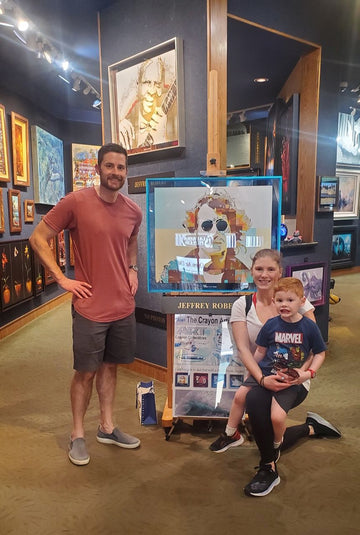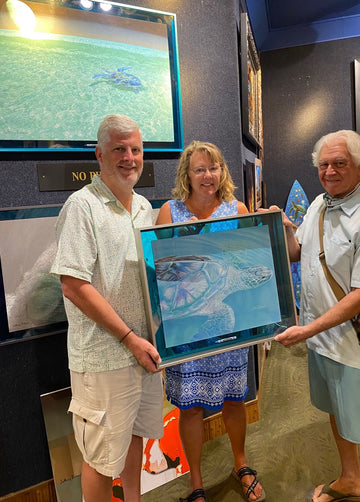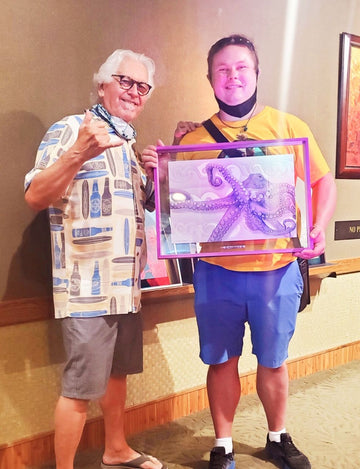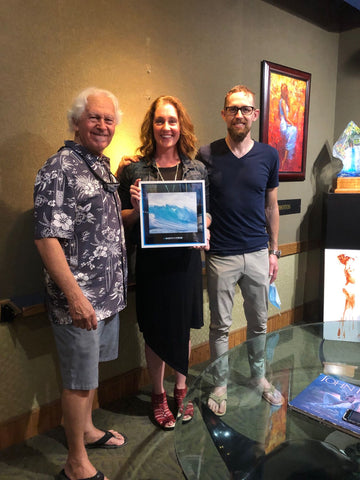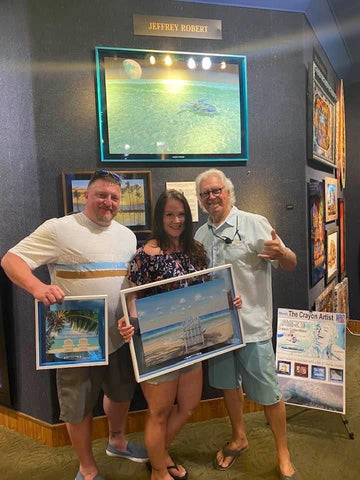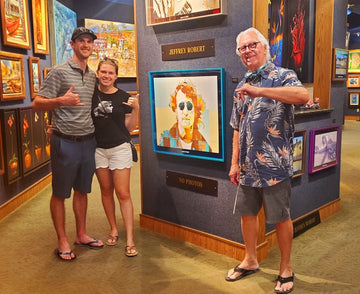 The Galleries on Maui are open! I walked in to The Bill Wyland Galleries Lahaina in time to meet the nicest couple, The Claveaus from California, who just purchased my Keawakapu Beach Crayon Art Original!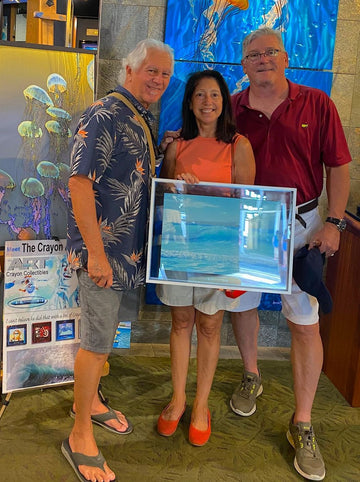 Special Collectors, Leah and Thomas from Scottsdale who own my original Blue Marilyn, collected more art for 3 spaces in their second home in the Pacific North West! It has a crisp and clean atmosphere and my Crayon Art of Hawaii sets the tone! Just beautiful, love it!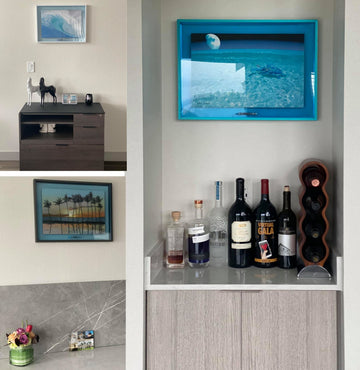 Tonya & Brad from Kentucky showcasing NIGHT AT THE HUMU in their new home. I love the way they displayed the artwork! One of my favorite things is collectors sharing photos of the art in their homes.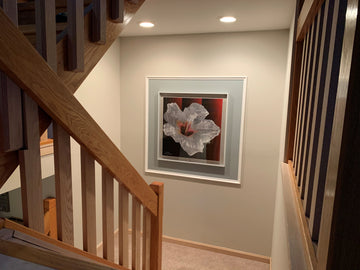 How exciting... Mark and Karen from Michigan commissioned me along with my daughter to create a special artwork for their beautiful condominium in Chicago! Such a pleasure to create a masterpiece for such an interesting and delightful couple.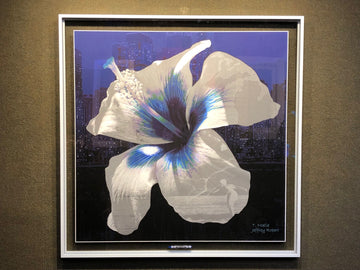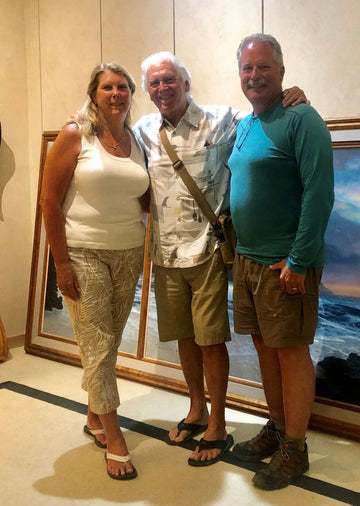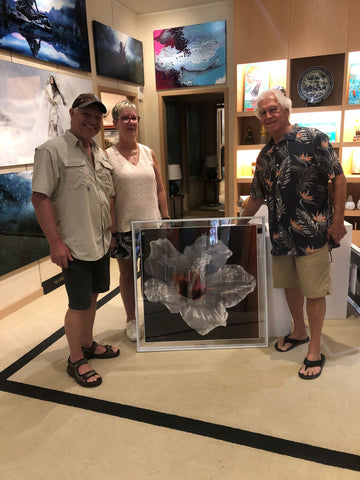 A present for her birthday!  Chris & Iris will remember their special time on Maui by taking CONVERGENCE Limited Original back to Michigan. Hau'oli La Hanau, Iris!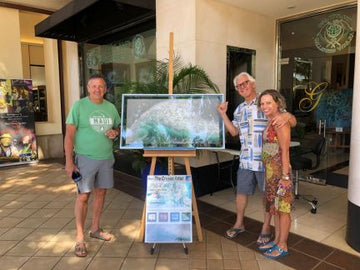 A wonderful couple, Jack and Carrie, purchased my Rhythm & Blue Crayon Art to be displayed in their home in Illinois. They have a condo on the beach in Wailea, Maui and visit every year! Maui No Ka Oi!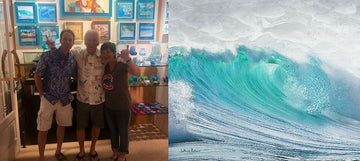 Nice to have WaileaCollectors coming back to add more of my art to their collection! The HUMU Original went to it's new Wailea home to join FLY ME TO THE MOON Original!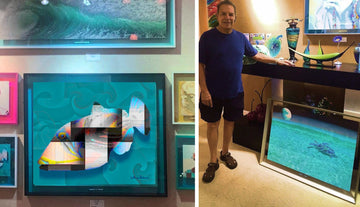 Check out the SUPER BOWL RING on my finger! Oakland Raiders 1977 Super Bowl Champs! My newest collector, football celebrity Rick Jennings II, acquired my Muhammad Ali "Sting Like A Bee" who inspired him to greatness...how cool.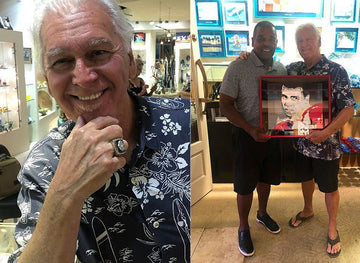 Was nice to meet with an old friend of my brother from high school!  Paul and Reenie took Rhythm & Blue Crayon Collectible home to California.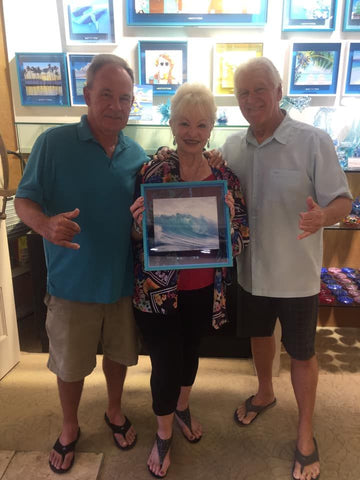 Penelope's parents bought her favorite Crayon Collectible "HONU ALOHA" to take back to Texas!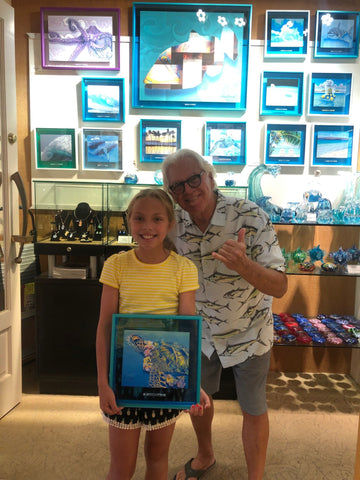 Aloha Friday🤙It was fun meeting this family at the gallery! They took home one of my cool Gift Line Crayon Collectibles, WAILEA SUNSET, to remember their Wailea, Maui vacation! Thank you Parker Family!!!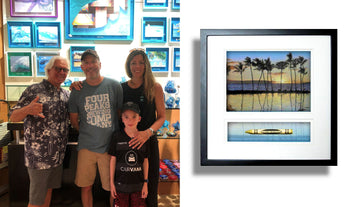 Roger and his wife Joanne, who is a teacher who loves Crayola Crayons and was drawn to the spiral movement within the hibiscus in the TROPICAL IMPRESSION Crayon Collectible! She didn't want to leave Maui without it!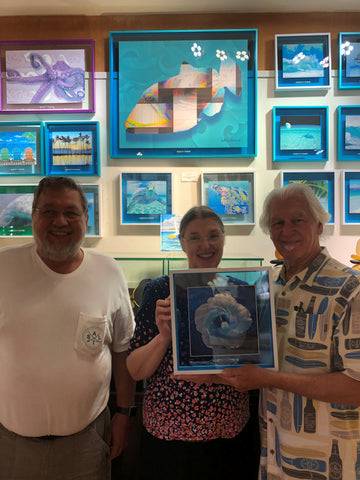 When you're in the 2nd grade and your parents let you make your first art purchase, what do you choose🤔Crayon Art of course!🖍️So while she's on vacation in Maui, she chose my blue honu with a lei!Thank you Tinsley for collecting my HONU ALOHA Crayon Collectible🤙Even 2nd graders love Crayon Collectibles!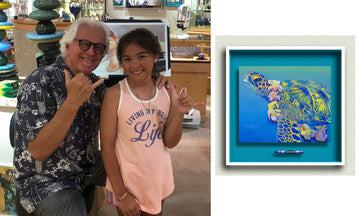 My cool intellectual collector friends, Joe & Beth, special ordered the #1 Les Paul Guitar Crayon Enhanced Giclee for his home office to compliment his Guitar Collection! They also purchased a copy of my Limited Edition "Art Of The Crayon" book with the Crayon Art Techniques DVD for their grandchildren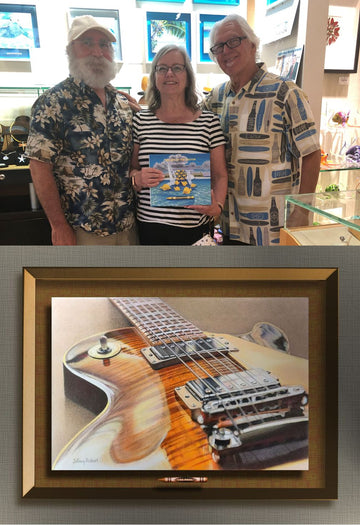 Mario & Marita, from Florida, returned to meet me after purchasing my large whale NA KOHOLA limited edition giclee a few days earlier and decided to add 2 of my Crayon Collectibles to their collection! Sweetest people ever who were absolutely fascinated with my Crayola Crayon Art!🖍️🐳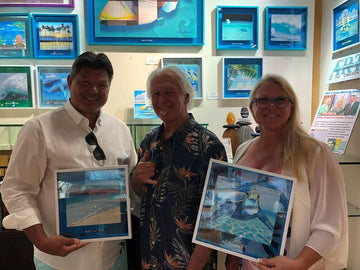 They all 3 voted to take home WAILEA SUNSET Crayon Collectible in memory of their Wailea, Maui vacation! Enjoyable family🌴
My good collector friend, Tim from Boston, came by the gallery and commissioned an Original Crayon Artwork of a Wave to add to his collection.🖍️🌊He owns my large John Lennon Original, one of my favorite pieces🤙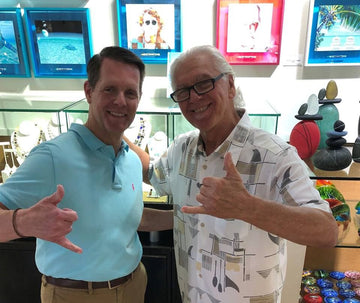 New Collector friends, Sandra & Bill from Canada, purchased the just completed KEAWAKAPU BEACH Original that will be framed in my trademark floating crayon design!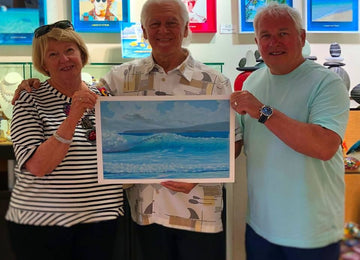 My new Collector friends, Chloe & Zale from California, who are on their honeymoon in Maui! I walked in to the gallery just in time to meet them as they were finalizing their custom order for 3 Crayon Collectibles in the white frames. What a sweet couple!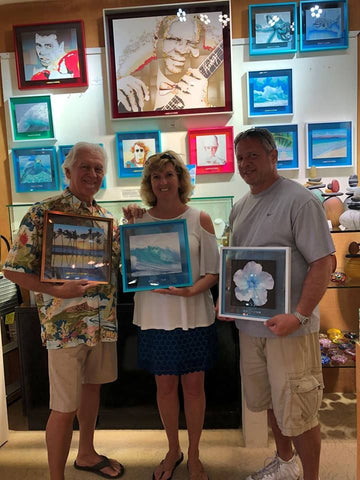 Ellis & Jeanne came back to the gallery to meet me & have a photo taken with me after they purchased 3 Crayon Collectibles to take home to Washington because she just "loves" my Crayon Art!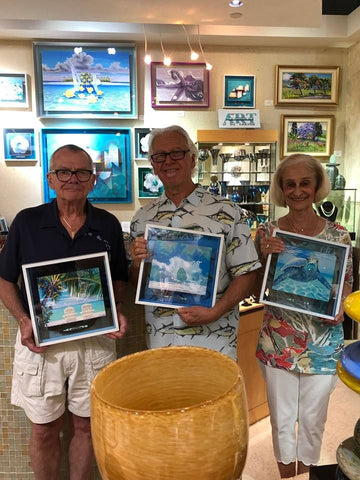 You never know who is going to walk in and buy a Crayon Collectible on Christmas Eve in Maui! Do you remember the legendary Comedian Jonathan Winters? Well this is his son, Jonathan Winters IV, who now resides on Maui. And guess what? He's got a great sense of humor...of course!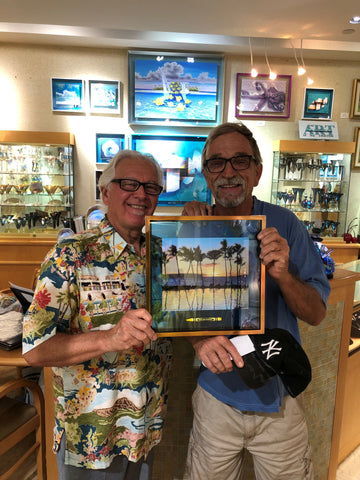 Mahalo to my New Collectors, Thomas & Leah, from Scottsdale and Aloha to my "Blue" MARILYN Original Pop Crayon Art who has found a new home there and also thanks to Thomas & Leah for the purchase of WALK AT WAILEA Canvas Giclee (Collaboration with my daughter) and NIGHT AT THE HUMU & DREAMSICLE Crayon Collectibles. You Guys Are AWESOME!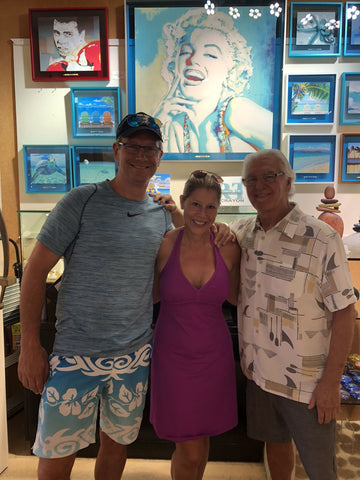 Everyone loves Crayon Collectibles! This lovely couple made a custom order for 3 waves to be framed alike for that perfect spot in their home! Mahalo to my new collector friends, Andrew & Traci, from Ohio!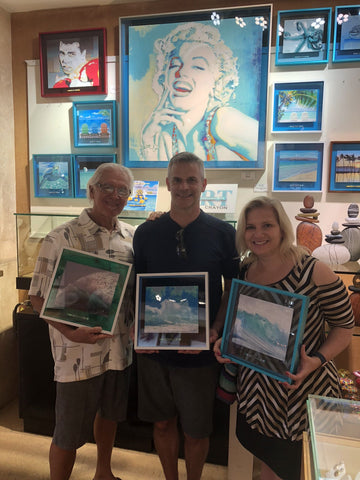 Sweetest family from Colorado, and he grew up on Oahu, took home 3 Crayon Collectibles! Mahalo Silva family!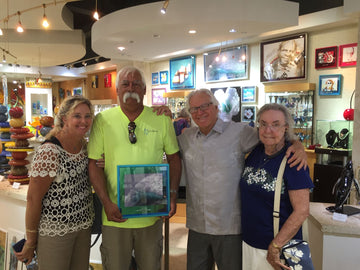 New Collector friends, Jennifer & Eric from Detroit, are excited to have their names personalized in the sand on the new MOLOKINI Crayon Collectible!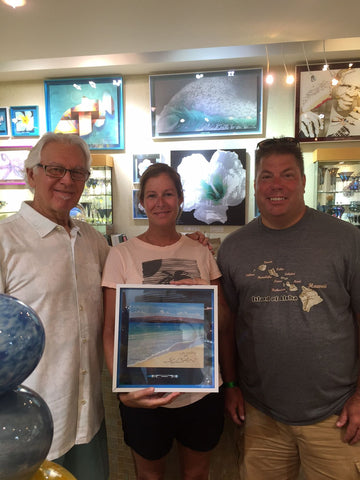 Canadian Tourists at The Glass Mango at Whalers Village in Ka'anapali!
JOHN & SUE personalized on the beach chairs. MAUI FOREVER 3-3-18 personalized on the Crayon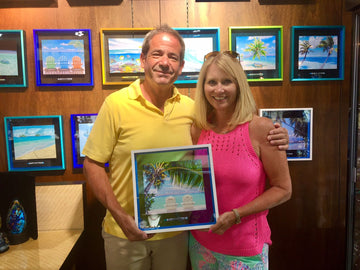 Art & Barb from Canada at The Glass Mango at Whalers Village in Ka'anapali taking home a personalized Beach Chairs Crayon Collectible!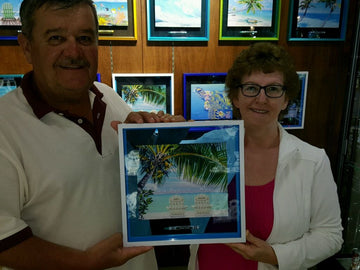 I really enjoyed visiting with my new collector friend, David, who was in Wailea for a Medical Convention! He had a lot of positive energy towards fine art with crayons and is taking WAILEA SUNSET Crayon Collectible home with him!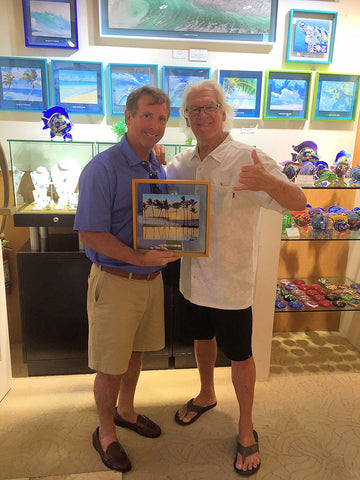 My new collector friend, Chris from New Zealand, is taking home LENNON! He was intrigued when he watched me working on the LENNON in the gallery last week and came back to add it to his art collection.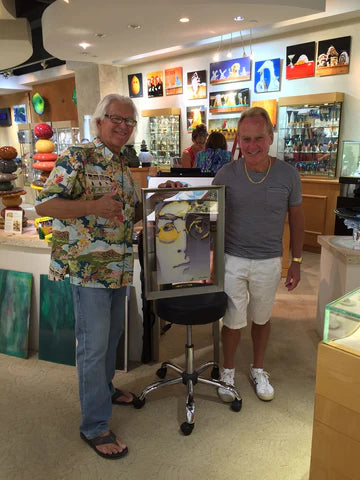 Fun & enjoyable collector friends, Karin & Raleigh, at Ki'i Gallery. He is a discerning collector and is adding Convergence and Rhythm & Blue Crayon Collectibles to his art collection.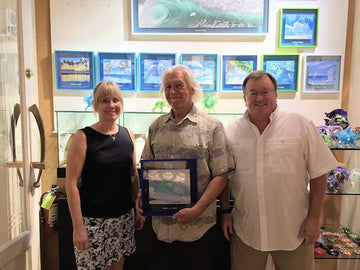 My new collector friends, Brian & Mida, a very charming couple from Canada, loved my Crayon Art and are taking home the Personalized Beach Chairs in the new Pacific Gold Frame!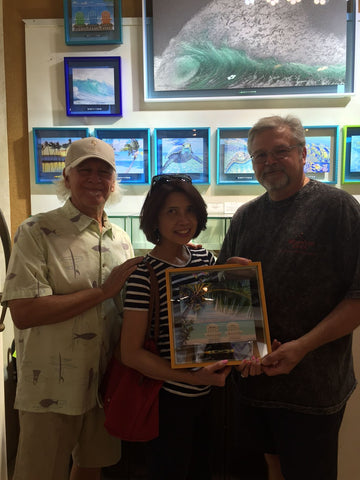 Leslie from California is getting a "Personalized Names in the Sand" Crayon Collectible of her family for her birthday present!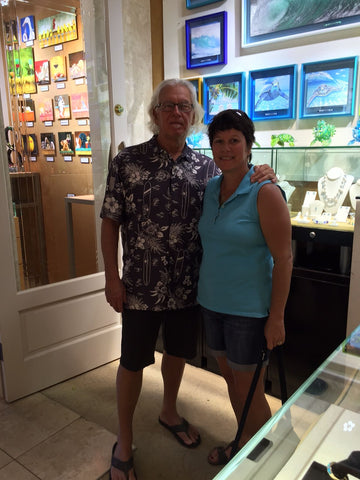 Visiting from LA. Taking home the Personalized Beach Lovers Crayon Collectible with their names, JEFF & JUDY on the Chairs and the Crayon Wrapper title, MAUI 2017...how cool is that!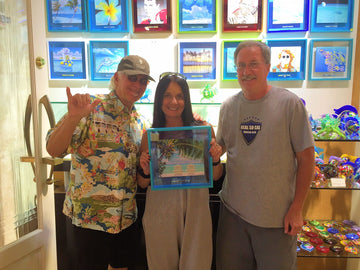 Congratulations to my new Original Crayon Art Collector!  FLY ME TO THE MOON Original off the gallery wall and on its way to it's new home in Wailea. Aloha 'Oe to one of my favorite creations!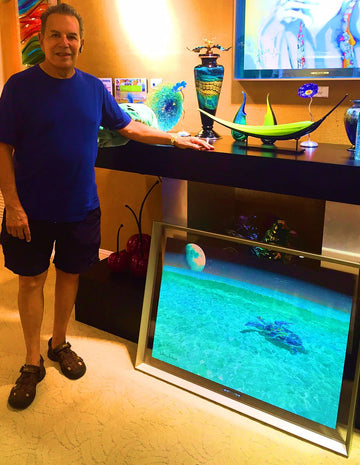 This new collector and I had a lot in common. He plays guitar, like me, and wantedsomething special to hang in his music room... and who doesn't love the creative mind of John Lennon,right!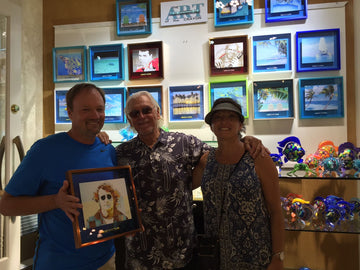 This fun family of 5 from California (oldest daughter was shopping) will be taking home the 'Personalized Names In The Sand' Crayon Collectible with all 5 names written in the sand!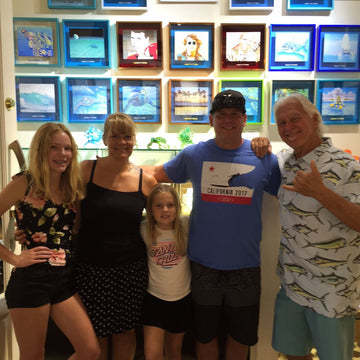 Super friendly collector friends, Robert & Afton from Utah, are taking home one of my favorite Crayon Collectibles, HUMU!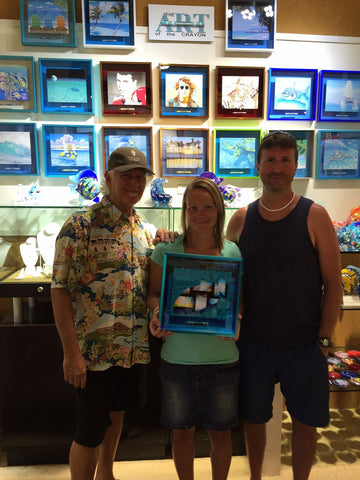 I really enjoyed meeting Caroline at the gallery! She was excited to collect the CUBISCUS Enhanced Limited Edition.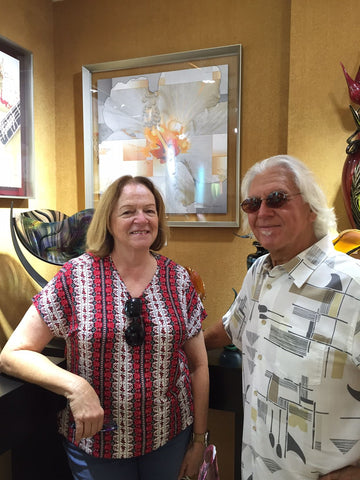 My new Collector friends, Karen & Griff from Oregon! A delightful and sweet couple taking home HONU KAI & ISLAND BLUES Crayon Collectibles!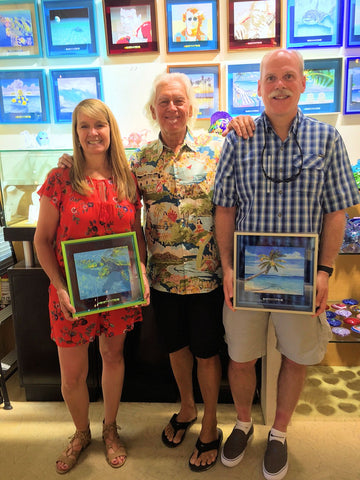 My new Aussie collector friends are taking RHYTHM & BLUE Crayon Collectible home to Bells Beach, Victoria!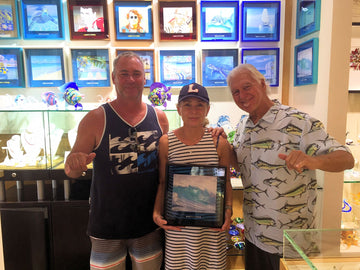 Scott & Linda from California bought 2 Crayon Collectibles to showcase in their remodeled home & upcoming house party!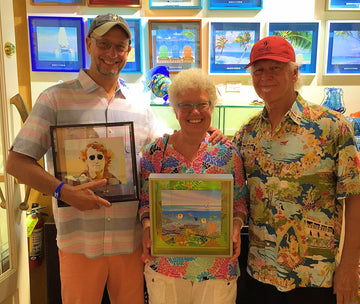 KURT SUZUKI (Famous Baseball Star) suggested to his sister, Keri Ann and her husband Scott, to be sure and look me up while vacationing on Maui! How cool is that!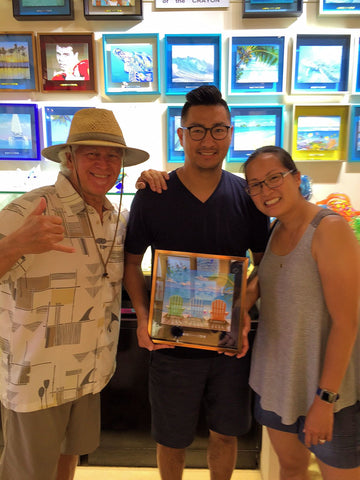 The sweetest family bought 2 Crayon Collectibles at the Grand Wailea Resort and came over to meet me at the Shops at Wailea!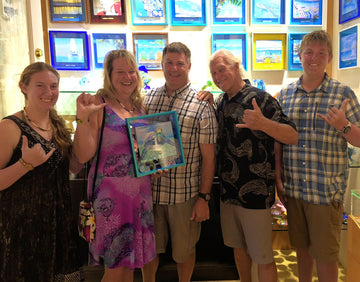 Personalized beach chairs have become very popular with summer tourists, especially the kids! Sweet family and such fun to meet crayon art collectors on holiday in Maui!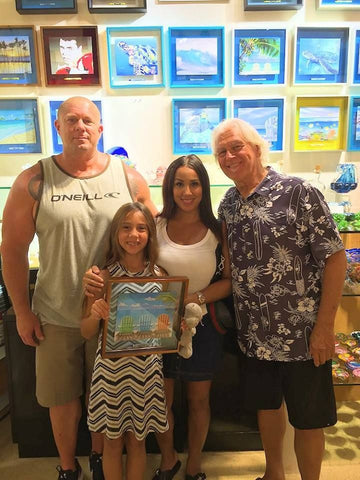 I dropped in to the gallery to deliver some orders just in time for a photo-op with another new crayon art collector from Texas!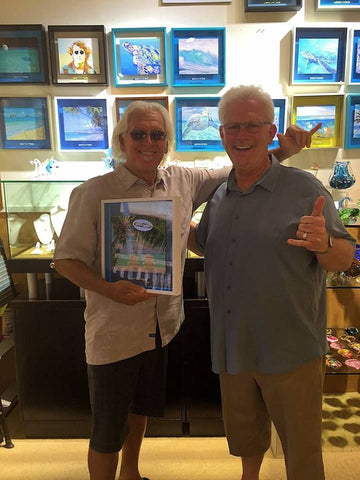 This sweet collector is having 'A Saturday Matinee' personalized with her and her daughters names on the beach chairs!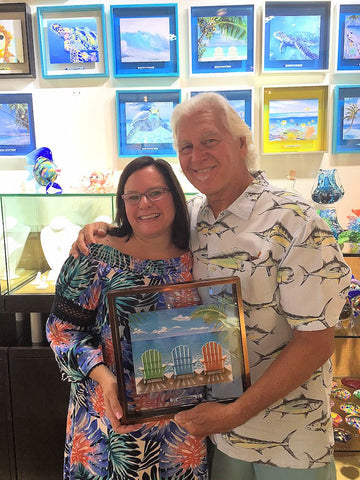 A lovely family from San Antonio, Texas taking home A Saturday Matinee with their personalized names for James on the 3 beach chairs & another 2 personalized beach chairs just for mom & dad!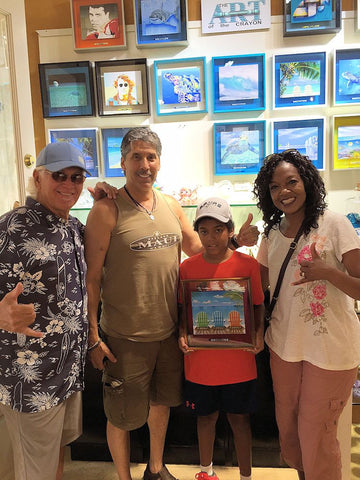 George & Jeanne...such a happy, delightful couple taking home WAILEA SUNSET Crayon Collectible!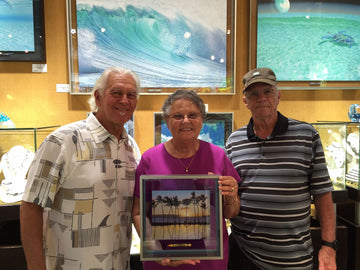 Another visit to Maui and another Crayon Collectible to add to his collection!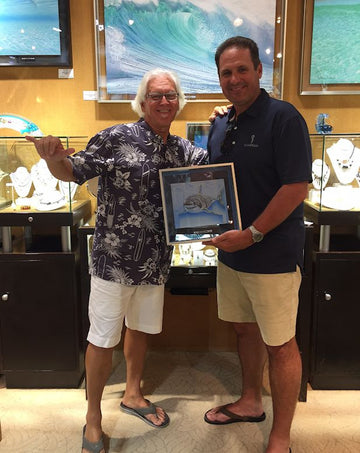 This lovely couple celebrated their anniversary and ordered a Personalized Crayon Collectible with their names in the sand!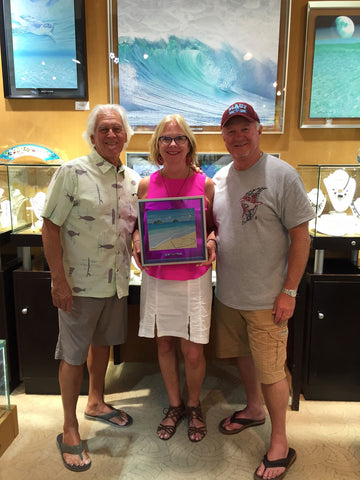 JOHN LENNON Crayon Art Original ... OFF TO BOSTON to it's new Collector!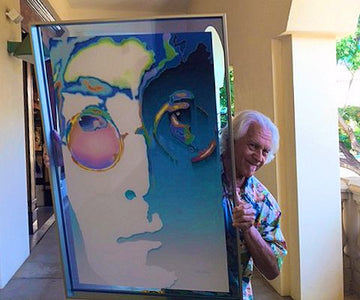 Thanks to my collector, Chad, for inspiring me to create this spectacular portrait of Mick Jagger! It will be showcased at his office in California.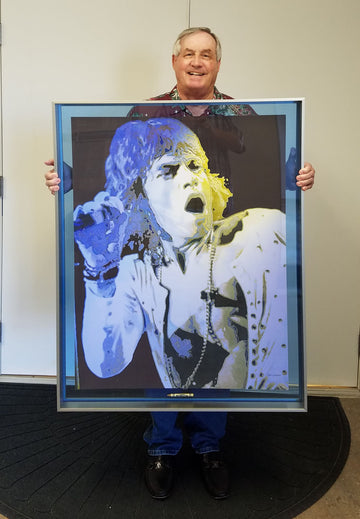 She collects art that features "chairs" and A SATURDAY MATINEE Crayon Collectible with the 3 Adirondack Chairs in crayon tickled her fancy!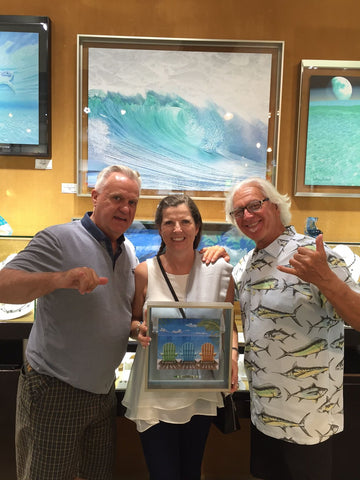 CRAYOLA'S NEW CAMPAIGN IS NOT SO BAD AFTER ALL
Coincidentally, an article just came out where I was asked to comment on Crayola discontinuing the "Dandelion" Crayon when this couple came in to the gallery yesterday and asked me what I thought about "Dandelion". It turned out to be the selling point for this new Crayon Art Collector to find out that I unwittingly used a "discontinued" Dandelion crayon for the nameplate in the Mellow Yellow Collectible!
My new collector friends from Alaska, originally from San Antonio...
Boy Howdy, love it!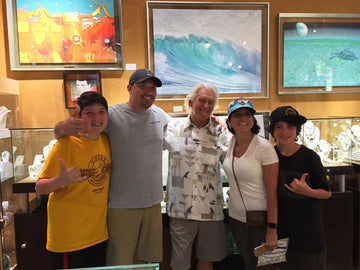 I enjoy meeting collectors from around the globe. This charming British couple is taking Rhythm & Blue home to LONDON!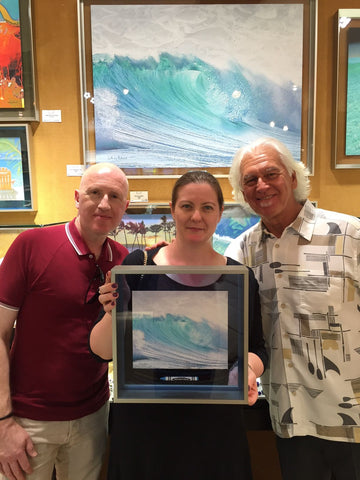 Had some cute little helpers at last night's Art Walk! They had fun adding some color to my art!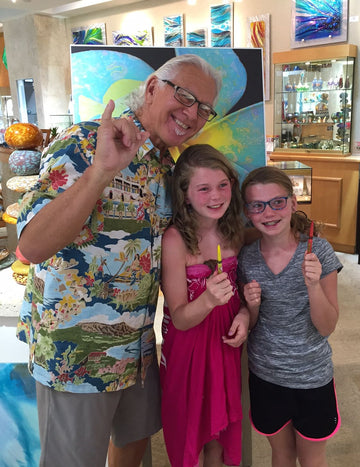 Just got married on Maui and taking home a personalized Names In The Sand Crayon Collectible with their wedding date written in the sand with their names!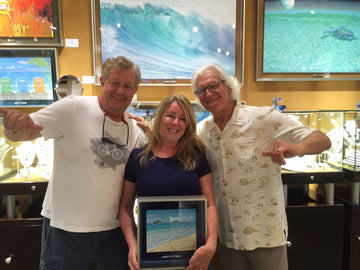 Retired Professors taking CONVERGENCE limited edition giclee home to California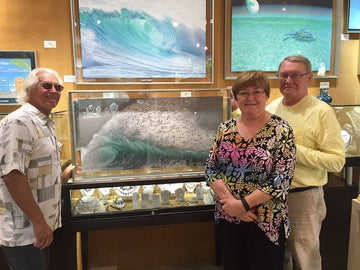 On their honeymoon in Maui, they couldn't pass up a tropical WAILEA SUNSET Crayon Artwork to take back home to Minnesota!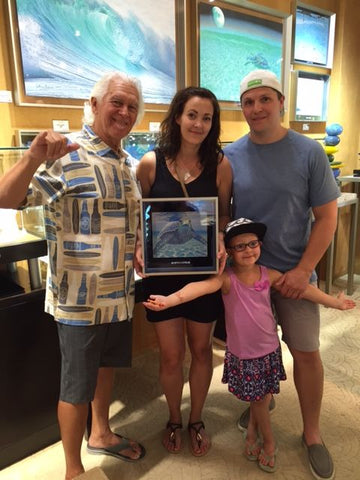 Ed owns several Plumbing Companies in California and Hawaii and he just had to collect my Honu Aloha.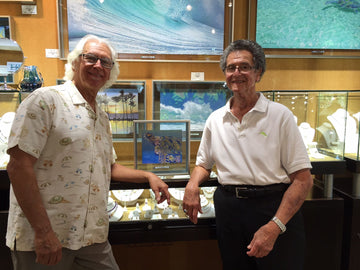 This San Diego couple was excited to start their collection by ordering a custom RHYTHYM & BLUE Crayon Collectiblein a black frame with blue plexiglass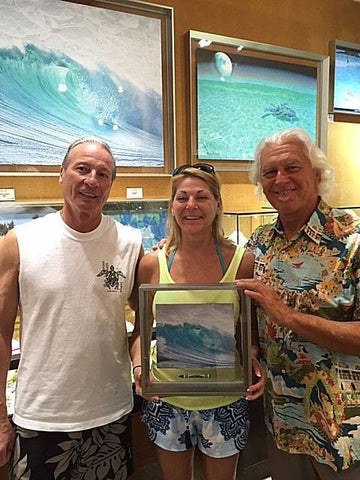 2 Crayon Collectibles for Pam & John from California!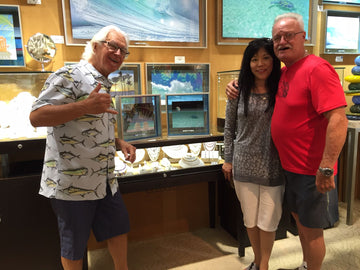 This new collector picked out WAILEA SUNSET limited editiongiclee to be framed in my trademark framedesign with the crayon nameplate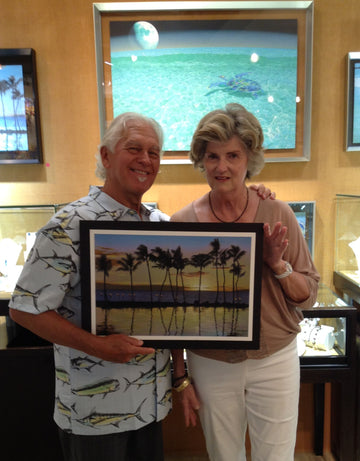 60th birthday surprise for her daughter who first saw my crayon art on her July Vaca to Maui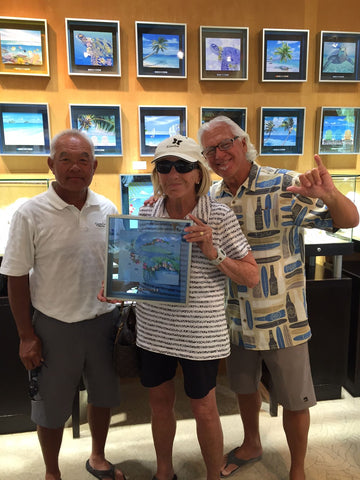 JUST ADD WATER Crayon Collectible for this sweet collector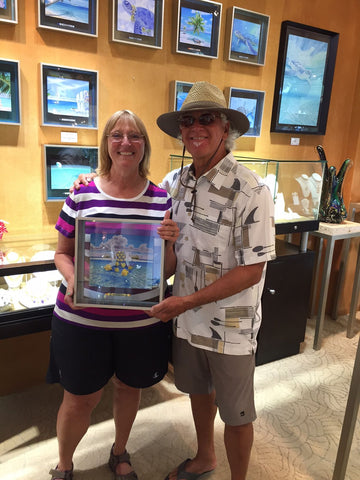 Jenny & Mark taking RHYTHM & BLUE Crayon Collectible home to Michigan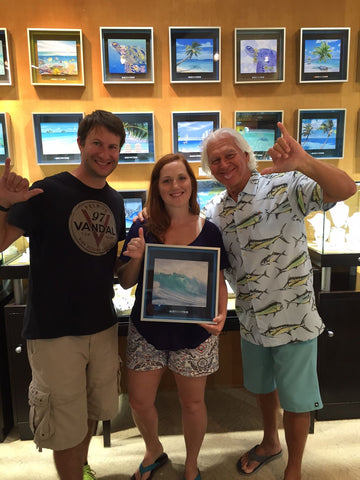 She works for a Creative Design Company where they will create anything you can imagine so had to have a Crayon Collectible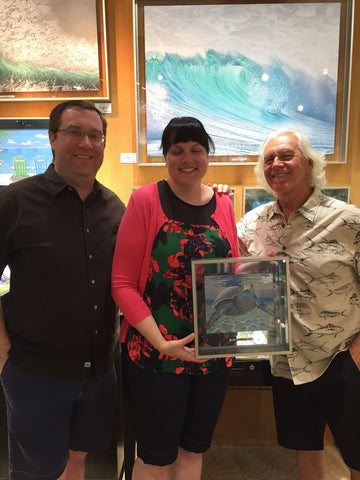 Retired Military Pilot and his wife starting a collectionof Crayon Collectibles and ordered a custom blue plexifor MELLOW YELLOW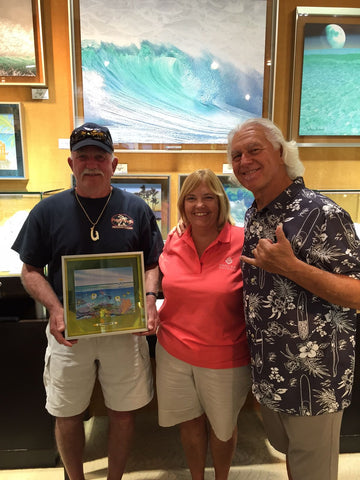 A fun couple from Australia became new Crayon Art Collectors!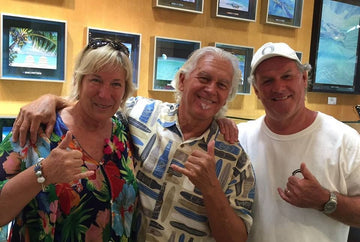 Congrats to the cutest and sweetest couple from Chihuahua, Mexico celebrating their honeymoon!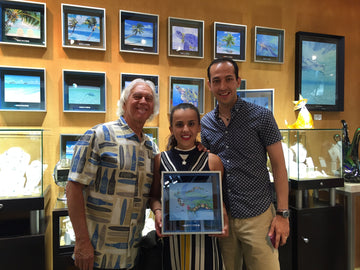 Video of the 1st Inaugural Art Walk at The Shops At Wailea with the beautiful Ki'i Gallery representing my art!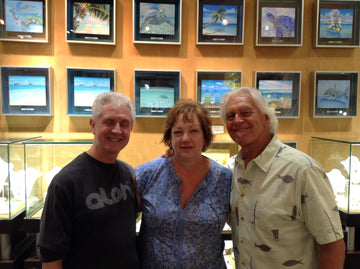 Always enjoy meeting new collectors on vacation when I'm at the gallery!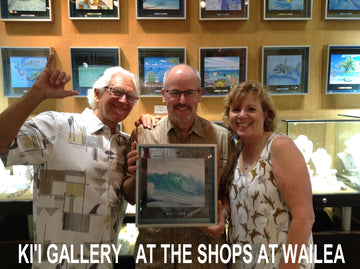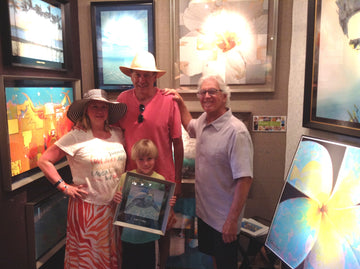 Such a fun family! New collectors of CONVERGENCE for mom and dad and HONU BABY for their Son!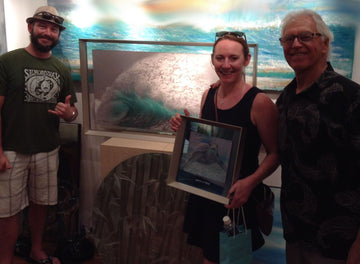 Fun and adventurous couple from Alaska...my new collector friends!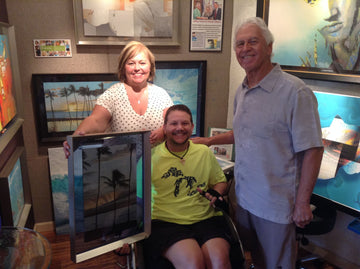 Congratulations to this sweet newlywed couple! They are taking Haleakala Sunrise Original home to Michigan in celebration of their Maui honeymoon!
New collectors from Virginia at last night's Wailea'Lea at the Shops At Wailea. It was their last night on Maui and they couldn't resist taking home my newest limited edition giclee of HUMU !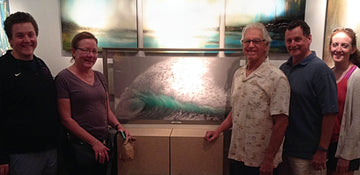 I love it when the sale of my Crayon Artwork brings together the entire family...Congratulations to Dave & Cathy for their purchase of my CONVERGENCE Giclee Enhanced Edition!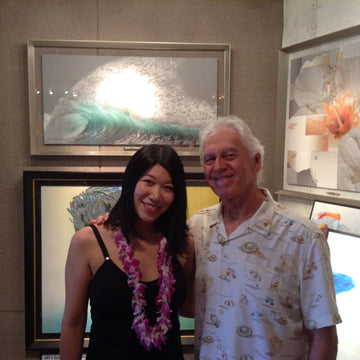 CONVERGENCE (wave) Enhanced Edition... A Christmas present from her husband!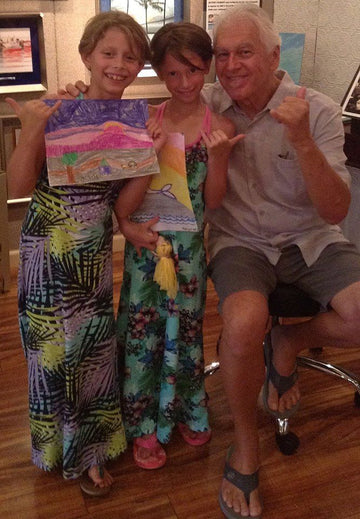 Spreading Aloha through Crayons!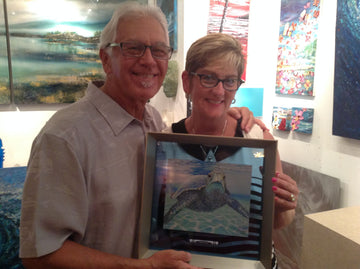 HONU BABY is still my #1 Crayon Collectible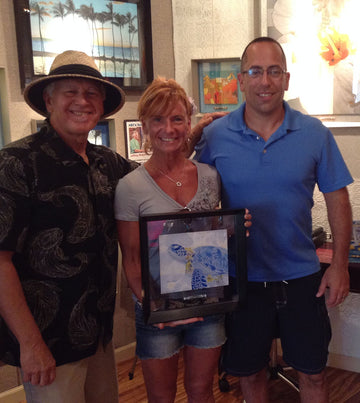 Crayon Collectibles are cool art gifts when celebrating
Anniversaries or Honeymoons on Maui!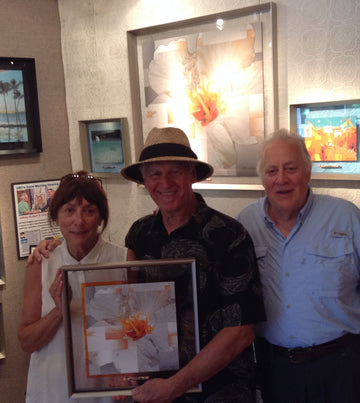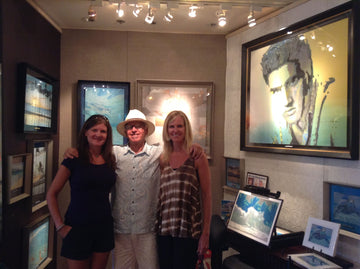 Sisters...taking vacations together and creating memories
with a Personalized Crayon Collectible!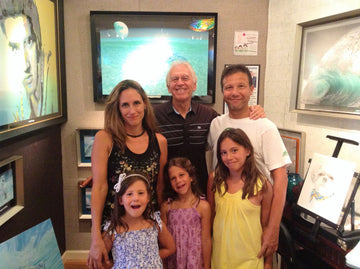 "Fly Me To The Moon" Enhanced Edition (shown behind us) is going to Spain with the sweetest family! Also taking home "Wailea Sunset" Crayon Collectible while each girl got a mini Honu print and enjoyed coloring while in the gallery.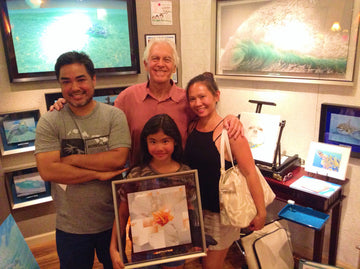 This sweet family is actually getting a much larger "Cubiscus" then shown in the photo but the smaller one inspired them to get the special #1/25 in the 28x28 size!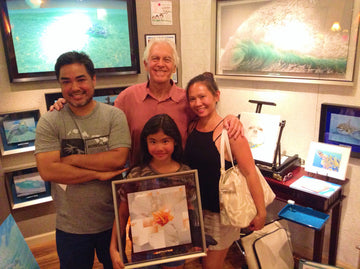 This sweet family is actually getting a much larger "Cubiscus" then shown in the photo but the smaller one inspired them to get the special #1/25 in the 28x28 size!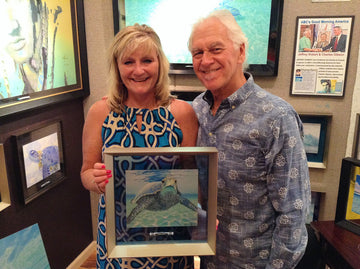 Heading back to Colorado with her Honu Baby Crayon Collectible. Honu are popular with visitors to Maui! Dedicating her Crayon Collectible below!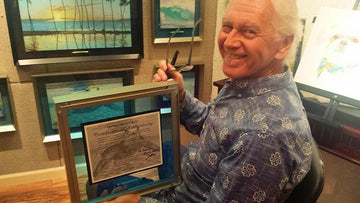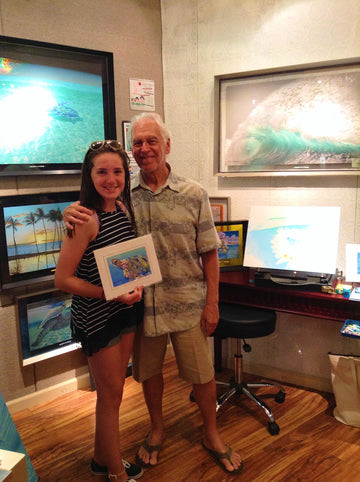 This is Abby with her first Crayon Art purchase. She came back to the gallery the next day and added another Honu print to her collection but also purchased my Crayon Art Techniques tutorial. It's nice to meet young teens who want to learn how to use Crayola Crayons for fine art!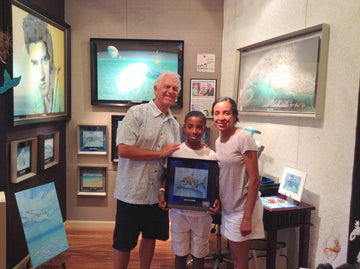 This is a gift for his dad, they love to watch Shark Week together and his mom put him in charge of finding the perfect Birthday gift for his dad...he chose the "Big Mack" Crayon Collectible!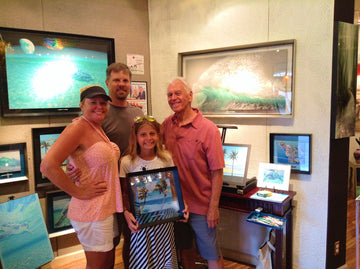 Kids love Crayon Collectibles and really help in making the sale, lol. Taking home "Maui Trades" Crayon Collectible!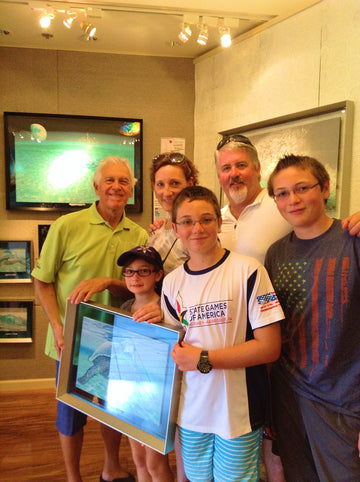 This fun family of 5 is taking 5 Crayon Enhanced Editions back with them to Texas...Cool!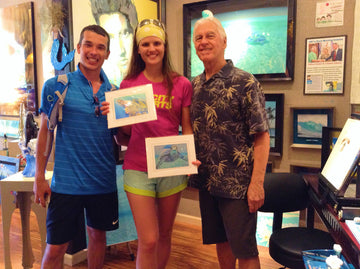 To Russia with Aloha! Taking Crayola Art back to Russia for her Mother who is an Artist!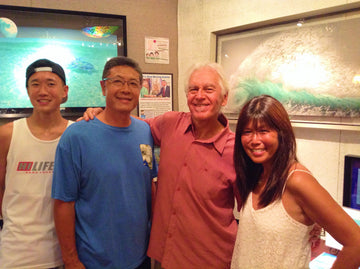 There goes another Convergence Enhanced Giclee (top right) to the nicest people! They came in to the gallery with another family (shown below) and both families became new Crayola Art Collectors!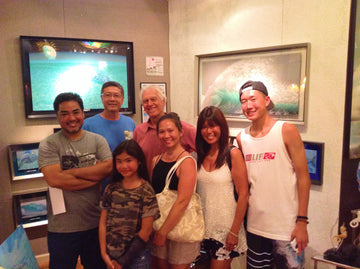 2 fun families who became Crayola Art Collectors while on vacation in Maui. How cool is that!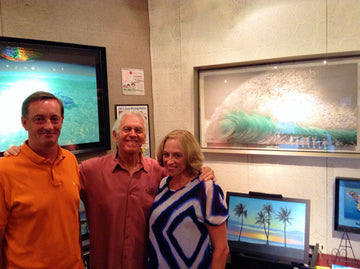 They just acquired the #2/25 of the special Crayon Enhanced Edition of "Convergence" (shown in upper right)! So nice to meet people from around the US and world while they are vacationing on the beautiful island of Maui.